Drops: The easiest way to launch an NFT 2.0 collection on LUKSO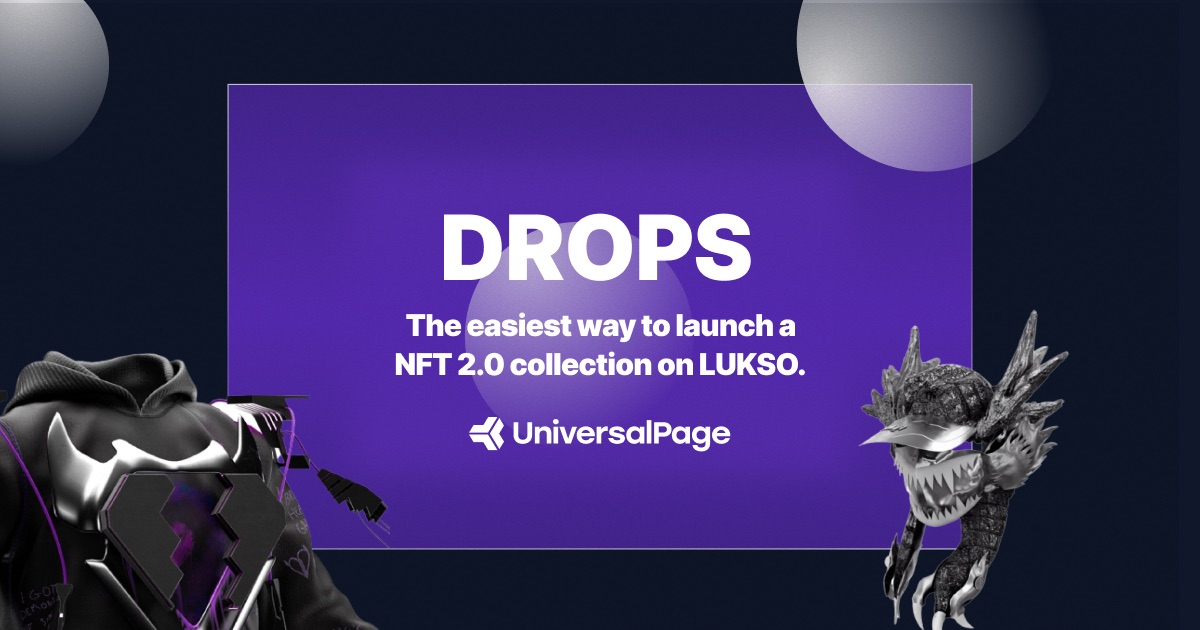 Introducing Drops
We're thrilled to unveil a game-changing new feature: Drops. Our easy-to-use editor empowers creators of to launch their own NFT 2.0 collection on LUKSO without the need for technical skills.
Drops offer a wealth of benefits for creators, including:
Dedicated drop pages
Dedicated drop pages that enhance discoverability on UniversalPage, with the ability to customize the page to your liking.
Customize, upload to IPF, and deploy
Our intuitive editor allows creators to personalize their landing page, upload their assets to IPFS, deploy their own smart contract, and manage their launch with ease.
You own your smart contract
Creators fully own the contract they deploy and are in full control. They can use their Universal Profile and out UI for the full process. Technical expertise is not required.
Manage Allowlists
Creators can upload an allowlist of approved Universal Profiles. This enables them to organize both private and public launch windows. The allowlist ensures that only approved profiles can mint during private launch windows.
Import tool
Creators can use our editor to prepare their collection and upload NFT assets and metadata to IPFS. For small collections, this works great, but it requires manual work to prepare each item. Therefore, for large collections with thousands of items, we provide an import tool. The import tool is a work in progress with ongoing updates. Please get in touch with us if you would like early access or have specific needs.
Create NFTs 2.0
The deployed contracts utilize the LSP8 (NFT 2.0) standard, which simplifies the process of referencing multiple creators, updating metadata, and managing flexible creator royalty settings. On Universal Page, only LSP7 and LSP8 are supported. Using Drops to launch your collection makes sure people can trade their NFTs on the open marketplace.
Launch and monitor
Creators can track their launch performance, including monitoring their launch and viewing who minted their work.
Mint safely
Collectors can mint directly from UniversalPage, making the process of purchasing and owning NFTs more accessible than ever. After mint, NFTs can be re-sold on the open marketplace.
Want to launch on LUKSO? Come talk to us!
We invite creators of all backgrounds to explore the innovative features of Drops and discover the potential of our NFT platform. Join our Discord, follow us on twitter, and please reach out if you are interested in launching a NFT 2.0 collection on LUKSO.