Now live on L16: The open LUKSO NFT marketplace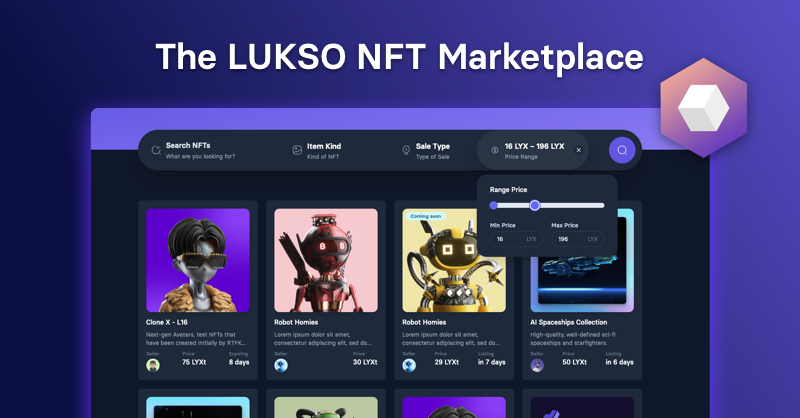 The first NFT Marketplace on the LUKSO blockchain
After months of hard work, we are proud to announce our biggest feature launch since the beginning of the beta testing phase.
We present: The open LUKSO NFT marketplace! 🤩
Now live on the L16 testnet. Go to universal.page/discover to test it yourself!
Open Marketplace
Visit universal.page/discover. This is where listed items are shown and where you can search and discover NFTs that are buyable on the Lukso blockchain.
This is the first marketplace that only supports NFTs 2.0, meaning contracts using either the LSP7 or LSP8 standard.
Assets can only be bought with your Universal Profile.
After a sale has been completed, the seller receives the amount in LYXt, and the buyer gets the NFT directly in their Universal Profile.
You can also use LYXt to make offers on any listing. Ensure you provide your email if you want to get notified when your offer has been accepted.
Royalties
On Universal Page, the owner of any NFT contract can set the royalties for all the creators that have worked on the asset.
Each creator can receive different percentages of royalties.
These royalties are fully manageable by the contract owner.
When we launch on mainnet, this means that creators like Teflon Sega, Karl Lagerfeld, and others that launched NFTs on LUKSO via The Dematerialised can easily set custom royalties and receive their percentage on each next sale of their work.
Custom NFT storefront
The main goal for Universal Page has always been to let creators build customizable web pages to not only showcase but also sell their digital assets directly to their audience.
We are proud that we now made that possible. You can build your own personalized NFT webshop entirely based on your Universal Profile and the asset it owns.
Your assets will be discoverable on the marketplace, but you have your own custom website which you can reach your audience.
Test it now
This is one big step towards realizing our vision, and we need your help.
You can help test these features by creating your own NFT 2.0 on the test environment and putting them up for sale.
You need some LYXt to test the buy feature, you can get them at the L16 faucet: https://faucet.l16.lukso.network/
Please join the discord to stay updated or ask questions.
Any feedback is appreciated.